OUT OF STOCK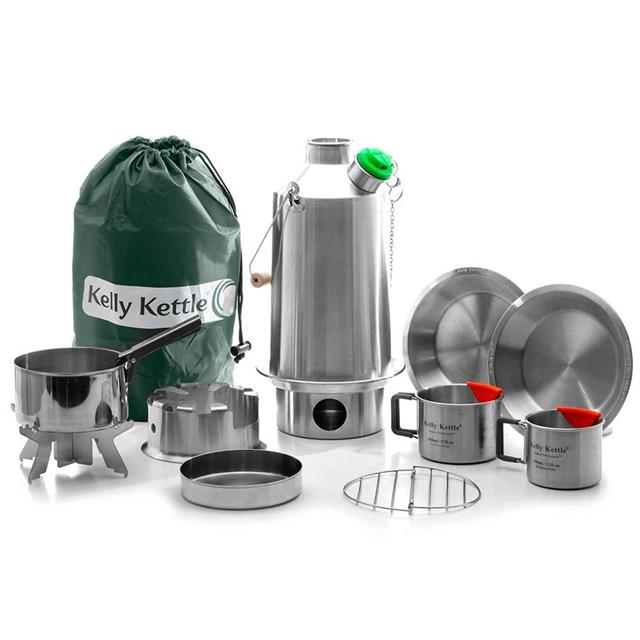 Kelly Kettle Ultimate Base Camp Kit
€119.95
Kelly Kettle Ultimate Base Camp Kit
This is an extremely efficient Camping Kit which is suitable for Fishing, hunting, Scouts, fun family picnics, Car Camping, Kayakers.  Add it to your wilderness / Disaster / Earthquake or Survival kit.   Superb camping gear or for anyone who works in or simply enjoys the outdoors.
The Green Whistle (has replaced the Orange stopper) will let you know when the water has boiled.
This 'Ultimate Kit' includes the following items:
1.6ltr Stainless Steel Kettle & fire base. (New model kettle, no rivets & laser welded)
Cook set      – which includes: 0.85ltr Pot / Frying Pan (pot lid) / 2 Piece Grill / Gripper Handle
Pot / Base Support – two pieces which flat pack for easy packing. Use either as a pot-support over the chimney top for cooking fast items, or use as a support under the fire-base to prevent the ground beneath from scorching!
Cup set         – 500 & 350ml cups with silicone CooLIp pieces, silicone coated foldable handles, measurements on the inside of the cup & polished interior for easy cleaning.
Hobo Stove  – for cooking over the fire base.
Camping Plate Set  (All the accessories are made from Stainless Steel)  
Drawstring carrying bag
Simply fuel your kettle with sticks, pine cones, bark, dry grass, etc to boil approximately 6 cups of water fast outdoors in any weather!  Uses a very small amount of fuel to heat water for hot drinks, washing up, personal hygiene, etc.
There are various cooking options with the kit.
1) Use the pot-support to cook fast items like noodles, soup, popcorn, etc over the chimney of the kettle as the water comes to the boil.
2) Once boiled, remove the kettle and place the Hobo Stove on the fire base to create a stable wood stove for use with any size pot or pan.  Refuel the Hobo & Base with sticks etc, and cook for as long as you need!
3) Drop the 2 piece grill set onto the fire base to grill chops, steak, sausages, chicken, etc..  Or place a pot on the grill to do some simple cooking.
As there is no need to carry fuel, this kit will keep your pack light and save you money at the same time – never worry about running out of fuel again!   All fit neatly within the kettle itself for transport or storage.
If more than 1.6ltrs of water is required (this kettle will easily and quickly boil water for 10-14 people within a matter of minutes) simply refill the kettle with water and place it back on the firebase. Refuel the chimney again and your kettle will boil again within approx. 3-5 minutes.
Fire Base & Drawstring carrying bag are included as standard with each Kelly Kettle. The durable steel fire base inverts up into the bottom of our kettles to make the unit as compact as possible for transport and storage.
Please note: The Kettle has been designed to boil water extremely fast in all weather conditions using very little fuel. When filled with water, the Kelly Kettle should always be carried upright to avoid any spillage/leakage from the water spout or chimney top.
Older Kettles may have an Orange Rubber or Cork Stopper. These MUST ALWAYS be removed before using the kettle. The Kettle must never be boiled with these older stoppers in the spout.
Out of stock