OUT OF STOCK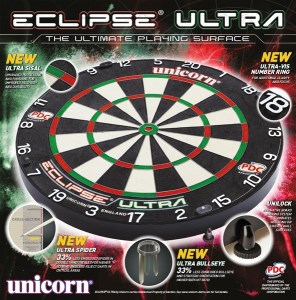 Unicorn Eclipse ULTRA
€79.95
Unicorn Eclipse ULTRA
UltraSlim plated steel wire – no external legs for high definition radial spider, lasts longer, doesn't rust or discolour and is 30% thinner than conventional round wire boards – increases the target area; especially in Doubles and Trebles. Designed to maximise averages.
New Ultra Bullseye – 33% less embedded bullseye and strategic orientation for higher 50/25 hit ratio.
Unilock innovative dartboard locking system – eliminates wobbling on uneven wall surfaces.
New Ultra Spider 33% less embedded spider in doubles and trebles for higher scoring and less reject darts in critical areas.
New Ultra-vis white metal number ring for additional clarity and focus.
Out of stock